Come and holiday in South India, one of the most popular tourists zones in the country. This packages covers almost all the four States in South India, like, Tamil Nadu, Kerala, Karnataka & Goa.

Tour Plan summery:

Day 01 :  Arrival at Chennai International Airport, upon arrival drive to Mahabalipuram
Day 02 :  Mahabalipuram
Day 03 :  Pondicherry
Day 04 :  Tanjore en route Chidambaram
Day 05 :  Chettinad
Day 06 :  Madurai
Day 07 :  Thekkady (Periyar)
Day 08:   Thekkady (Periyar)
Day 09 :  Alleppey Backwaters (House Boat)
Day 10 :  Kochi
Day 11 :  Ooty
Day 12 :  Ooty
Day 13 :  Mysore
Day 14 :  Mysore
Day 15 :  Hassan (Belur & Halebid)
Day 16 :  Hampi
Day 17 :  Hampi
Day 18 :  Badami en route Aihole & Pattadakkal
Day 19 :  Dandeli
Day 20 :  Goa
Day 21 :  Goa
Day 22 :  Departure  from Goa Airport to Mumbai  International Airport


Arrival at Chennai International Airport, then drive to Mahabalipuram. Check inot the hotel & rest of the day freeto relax.


Mahabalipuram (approx 70 km /1 ½hrs), where we stay overnight in hotel located on the beach. Places to visit:  Arjuna's Penance , the Mandapas, The Rathas ( 5 chariots), the Shore Temple.


we proceed to Podicherry,(100km/2  hrs) also known as Puducherry, it's  ambience is not influenced or dominated by one fabulous heritage monument or by amazing natural surrounding, except perhaps the sea. Visit the Sri Aurobindo Ashram, touch and try the meditation and stroll around the colony still has the French touch  and Auroville colony , Market,etc…


Today we take an interesting drive to Tanjore (approx 190 km/5 hrs)  en route visit Gangaikondacholapuram, through mango groves, sugarcane plantations and green paddy fields ( this region is the centre of rice production). Places to visit:  Brihadisvara Temple, Maratha Palace and bronze casting.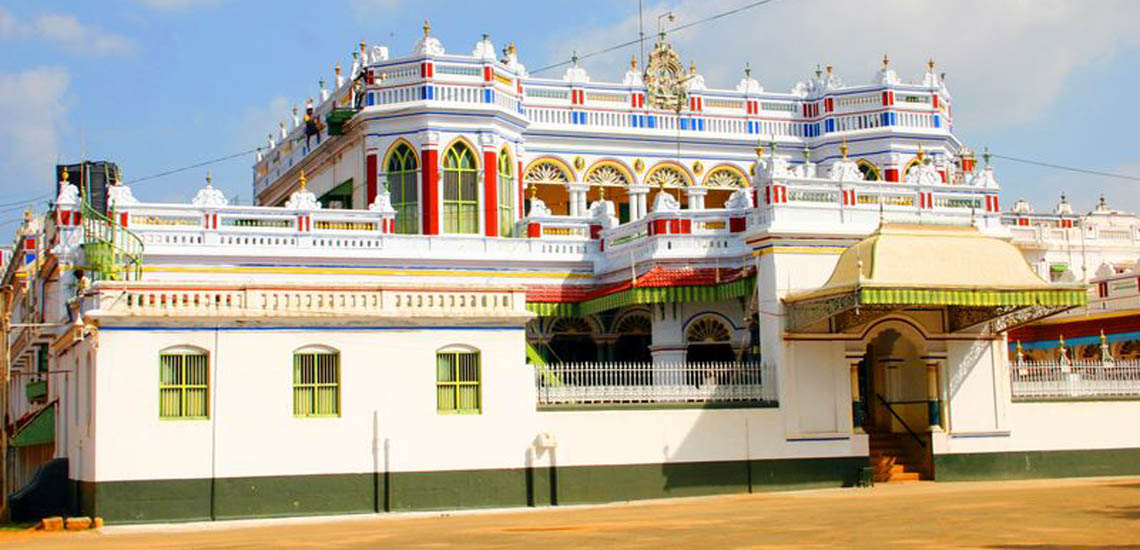 We drive to Karaikudi ( approx 90 km / 2 hrs) is traditionally part of the ancestral home of the Chettiyars. Evening  explore Karakkudi….Rest of the day free to  relax and enjoy the Chettinad cuisine.


Today we  proceed to Madurai (approx 100 km / 2hrs)  it  is one of India's oldest cities and has been a centre of learning and pilgrimage for centuries. Places to visit: Meenakshi Temple , Thirumala Naik Palace.


Today we proceed  towards the highlands of Kerala  -  Thekkady (approx 140 km/4 hrs). The journey  takes you through softly contoured hill slopes surrounded by plantations of rubber, pepper and spices like cardamom, coffee & tea. Places to visit: Spice plantation visit, Elephant safari, natural walk, Boat ride, Marshal arts show, etc..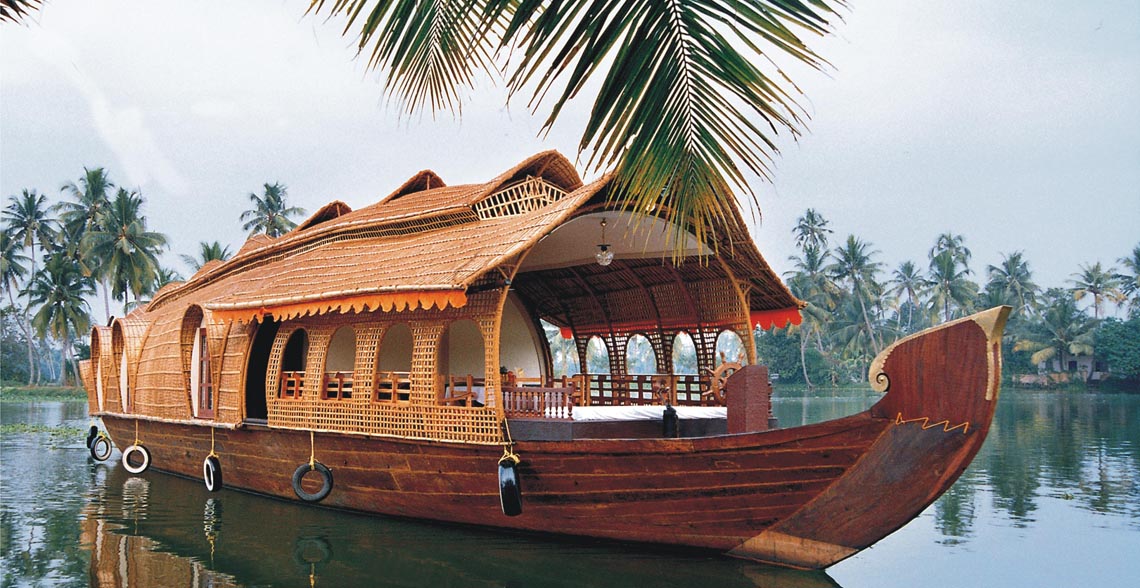 Today we drive to Alleppey backwaters  (approx 140km / 4hr) to board rice boat for our cruise through the small canals  and Vembanadu Lake. Arrive Alleppey and  embark the House boat that comprises twin rooms with attached bathrooms , running water and a lounge area in which to relax and enjoy the sights on the shore. Cruise through the backwaters of Alleppey, which is hailed as the ' Venice of the east', because of its intricated maized and backwaters,  cannals and bridges.   In the boat you can enjoy the traditional  Kerala style dishes.


We  proceed to Cochin (approx 70 km/01 hrs) Cochin, the commercial hub of Kerala is a town of great historical importance. Places to visit: the Mattancherry Palace, the Clock Tower, the St. Francis church, the Chinese Fishing Nets,  dance –drama show of Kerala – The Kathakali in a local theatre., sunset cruise, etc..


Today we proceed for a long drive to Ooty (approx 280km/7hrs) Located in the Blue Mountains of the Western Ghats, Ooty draws a large number of tourists every year. Lofty mountains, great lakes, dense forests, sprawling grasslands, miles of tea gardens and eucalyptus trees greet the visitors in route to Ooty. The hill station itself is a land of picturesque picnic spots. Upon arrival check into the Hotel. Rest of the day free.


Drive to  Mysore (approx 160 Km/4 hrs), enroute visit Sravanabalegola famous for the world's tallest monolithic statue.The palaces and royal garden of Mysore, 'The Jewel of Karnataka', provide glimpses of its past grandeur..  Mysore is well known for its Silk also. Places to visit: Maharaja's Palace, the Chamundi Hill,Renganathittu, Devraja Market, etc…

Today we proceed towards Hassan (approx 140 km/ 3hrs) Afternoon sight seeing trip to Belur  & Halebeed, the Hoysala temples at Halebid and Belur are widely acknowledged as being among the best examples of Hindu architecture in India.


We drive to Hampi (approx 280 km/ 7 hrs) Hampi's Mythological Pouranic dimensions appear to lie beyond the categories of historical times. The typical modern history of Hampi starts with a folklore.Places to visit: Virupaksha Temple, Krishna Temple, Lakshmi Narasimha, Queen's bath, Elephant stables, Zanana Enclosure (which also houses the Lotus Mahal),  Vithala Temple (the famous Stone Chariot is located here)etc.


We proceed to Badami (approx 160km/ 4hrs) Badami once a royal capital of the Chalukyas is now a sleepy town in Bagalkot district of Karnataka. Places to visit: Badami Caves, Pattadakkal, Aihole.


We drive to Dandeli (approx 180 km/ 4 hrs), Dandeli is a fast developing tourist destination with its amazing mix of beautiful natural scenery, wildlife and adventure sports. Dandeli is a perfect place to bask in the beauty of the natural surroundings. Visit the Dandeli Wildlife Sanctuary to catch a glimpse of the bison & the Black Panther.


We are approaching to the last phase of our trip, drive to Goa (approx 120 km/ 3 hrs) Goa, a tiny green land surrounded by azure waters on the West Coast of India, with its natural picturesque beauty, attractive beaches and famous architectural temples, grand parties and festivals and its rich Anglo-Indian heritage is a great attraction for all tourists.Places to visit: Beaches, Churches, etc...

After two days we'll depart to Goa Airport o board the flight to Mumbai and there after fly back to your Home land after a wonderful Holiday.