Sonamarg is also known as "The Golden Meadow At an altitude of 2740 meters, 85 Kms northeast of Srinagar, the road that leads to Sonamarg is almost like heading for an enchanted journey into Wonderland of Nature.The road that intially winds under the shadow of the mountain, crosses the Sindh at Wayil, 27 Kms from Srinagar, where the Valley widens. Onward, past Kangan and Gund, the road runs through peaceful pastoral land, the snowclad Harmukh range, and after a steep rise is the entrance to the "Meadows of Sonamarg". Sonamarg is also known as "Gateway of Ladakh".
Attractions:
Thajiwas glacier: Sonamarg offer many adventurous routes with amazing green water & frozen lakes around and Thajiwas glacier is a one such major tourist attraction in the region. Located 7 km from Sonamarg, it is an ideal spot for enjoying a sledge ride on the snow even in mid-summer. The nearby area is perfect camping site too.
Krishnasar Lake:  Located at a height of 3801 m above sea level, Krishnasar Lake is one of the most mesmerizing lakes in Sonamarg. Surrounded by dense alpines, the place offers cool and pleasant atmosphere. The lake is popular for trout fishing while people also enjoy other water activities here.
Zoji-la pass:  About 20 km east of Sonamarg is Zoji-la pass, the gateway to the Ladakh plateau. Situated at a height of about 3,528 m above sea level, the pass connects Kashmir Valley to Ladakh, Kashmir Valley to its south and Ladakh to its North. It is an ideal spot to enjoy the scenic beauty.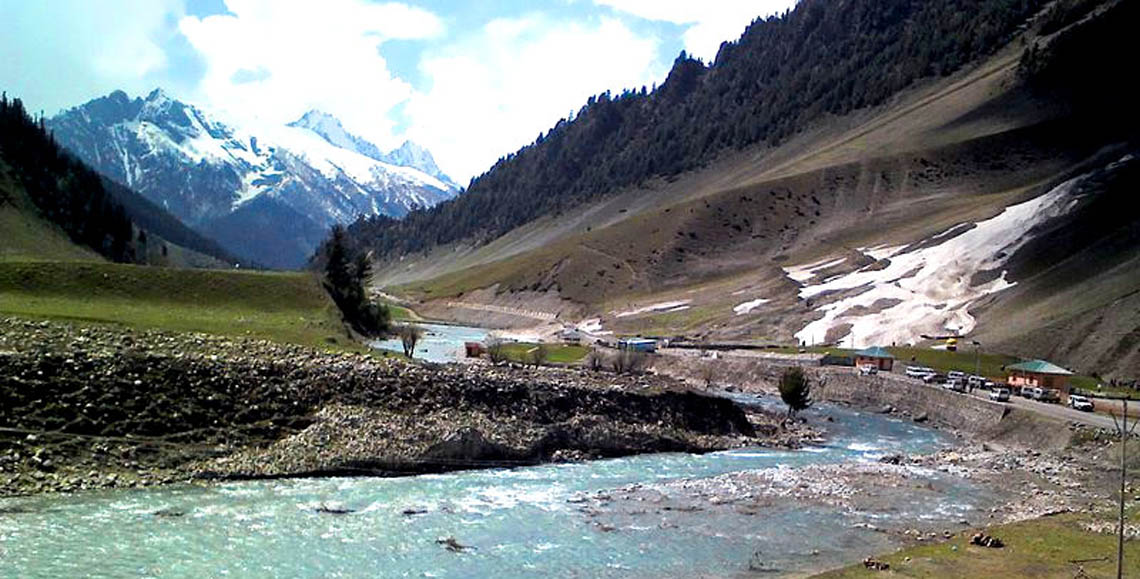 Nilagrad River:  Situated 6 km from Sonamarg is the Nilagrad River, a major attraction known for its reddish water. According to the locals, the water has curative power of various diseases and many people visit this place every Sunday to bath in the river.
White water Rafting: Sonamarg provides white river rafting for adventure lovers. The river of Sindh has various stretches of wild water where one can enjoy the thrilling sport of rafting. One can even go for a long rafting expedition starting from Baltal and ending at Shutkari Bridge at Sonamarg. With variety of stretches available, one is sure to have a pleasure rafting trip, whether it be a novice, adventure seeker or experienced rafter.
Vishansar Lake:  Perched at a height of 3710 m above sea level, Vishansar Lake lies around 35 km from Shitkadi, Sonmarg. With a length of a kilometre and a width of 0.6 km, this charming lake is among the visitor's delight in Sonmarg. The spectacular surrounding with snow covered mountains and meadows around with alpine flowers make it a haven for trekkers and adventure lovers. Besides, the lake is home to different species of fishes.Fed by Krishansar Lake and glaciers, the lake is the main source of Neelum River. During winter, the lake freezes while in summer, the lush green meadow surrounding the lake gives truly an amazing sight.